ADVOCATE.
What is an Advocate?
An advocate is someone who pleads, supports and promotes a cause on behalf of others or for themselves. Speaking up for a person's needs and wants.
The CTF ILLINOIS Board of Directors and its employees firmly believe that it is our organization's responsibility to advocate on behalf of the individuals with developmental disabilities in our state. CTF ILLINOIS desires individuals be treated as equals. To be active citizens and respected in the community that they live and have the rights and responsibilities to speak up for themselves.
Our goal is to advocate for them while also providing the opportunities for individuals to participate in a self-advocacy group themselves.
Case Management
CTF ILLINOIS delivers case management services to over 400 individuals within its residential, vocational and home-based programs. Case Managers are responsible to advocate for the support and care an individual receives.
Case Managers link every person served to an individualized medical, therapeutic, social and educational based service plan. Case Managers employ a person centered planning approach to ensure the individuals voice and choice is present in all programming. Case Managers also utilize the treatment recommendations from physicians, nurses, dieticians, speech, occupational, and physical therapists to develop quality programming.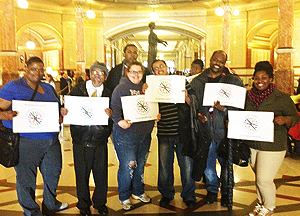 Self-Advocacy
Individuals are encouraged to participate in their own self advocacy. Individuals from CTF ILLINOIS are active members of The Illinois Self-Advocacy Alliance, Illinois Imagines, and SACIS. Individuals participate in Self Advocates Conferences, the Speak Up and Speak Out Summits, as well as various rallies throughout the State. Individuals further utilize their advocacy skills by holding monthly group meetings. These meetings focus on ways to develop and implement improved programs and activities for all individuals at CTF ILLINOIS.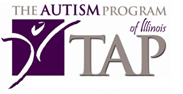 Autism Program
CTF ILLINOIS is a Service Center for the statewide network of The Autism Program of Illinois (TAP). The program offers resources and leads outreach to individuals and their surrounding communities via consultation services and training opportunities.
CTF ILLINOIS TAP also offers on and off –site consultation, education, and training to family and community members. A variety of classes are offered based on a variety of individual's need; Social Skills Class, play groups, Sibshop, and the Young Adult Club. Resource rooms, located in Charleston and Olney, provide visual supports, tip sheets, books, DVD's and other resources to the community at large. Resource rooms are open daily from 9Am to 4pm and by appointment.
For more information please contact Reagan Carey, CTF ILLINOIS' Director of Autism & Therapy Programs at 217-348-3869 or reagancarey@ctfillinois.org.